Service Location Indicator
When To Use SLIs
Claims will sometimes require a Service Location Indicator but we suggest that unless you are receiving rejections you should not chooose a SLI code for your claims. Claims requiring a SLI are becoming more frequent and setting this field resolves the common V68 and W4 errors. Effective for claims with service dates of April 1, 2020 and later, when a technical fee is submitted without a Service Location Indicator (SLI) the entire claim will reject to the physician/group error report with the new error condition 'VHC: SLI REQUIRED FOR TECH FEE'.
How To Enable SLIs
In the Settings tab under personal information you can turn on the SLI selector so that claims will have the option to choose an SLI.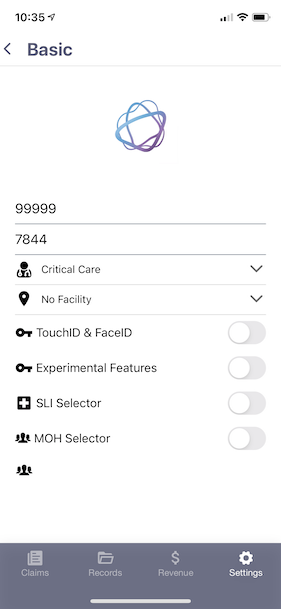 Chart of Commonly Used SLIs
| SLI | Description | Explanation |
| --- | --- | --- |
| HOP | Hospital out Patient | Patient seen in a hospital but was not admitted (i.e. in clinic). |
| HIP | Hospital in Patient | In patient in a hospital (including ER) or long-term care facility. |
| HED | Hospital Emergency Department | Emergency room patient that is not admitted. |
| OTN | Ontario Telemedicine Network | This doesn't need to be used in IntelAGENT as the app automatically selects this SLI for you behind the scenes when you choose OTN as your facility. |
| IHF | Independent Health Facility | Clinic without a facility number. |
| OFF | Office of Community Physician | Private Office with no facility code. |
| HDS | Hospital Day Surgery | Surgery paitne that is not admitted to the hospital. |
tip
SLI codes are not required for claims submitted under the "RMB" and "WCB" Payment Program Types.